By Jaime Ortega.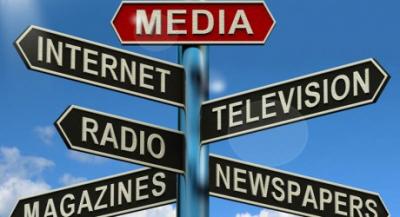 The media has played an essential role in fueling hate among Americans decades before Donald Trump stepped into presidency. The media is responsible for their inherent manipulation of news in order to impeach Trump and demonize his administration at the cost of creating an agenda which will destroy American nationalism. Nonetheless, it is not coincidence that most liberal media networks have a similar agenda to smear Trump's credibility — a president trying to utilize nationalism to unite the country mainly exhausted by the corrosive ideals of progressiveness.
The mainstream media has also initiated a ruthless attack on evangelical Christians and conservatism to bring about a state of anarchy. It is the secular liberal media networks which have tried to outright destroy the unity of the country to divide Americans into a state of ideological chaos not observed since the American Civil War – and particularly one group of people is responsible for it.
Jews in particular have obtained too much media power to objectively wield the strings of communication existing in America, posing a biased agenda intended to foster division and cause havoc. They have collectively monopolized the ideological ownership of television, radio, online news and newspapers. It is not normal that most networks in the US, are run by an ancient religious group historically renowned for ideologically stirring revolutions worldwide.
Early in the century, Americans opened their arms and hearts to embrace immigrant Jews after World War Two ended– specially evangelical Christians during that epoch felt entitle to help— despite Franklin Roosevelt's opposition to grant them sanctuary. Over the years, a large number of secular Jews started a campaign to promote far leftist social dogmas without coherently abandoning their capitalist drive to expand financially. They started to wage a crusade to demonize and pity Christianity without cause, and sponsored in America the same socio-Darwinian philosophy that Adolf Hitler adopted during Nazi Germany's genocide. The chastisement of Christianity in America and rise of Darwinian-secularism is impart co-sponsored by the Jewish liberal media.
In attempting to demonize traditionalist, conservative and Christian values — the Jewish media is committing suicide as the only true allies of Jewish America, are evangelical Christians who support the state of Israel and its existence. The Jewish media plot to defile Trump at all cost, will lift anger among the conservative right, which will consequently start to adopt anti-Semitic views. In retrospect, the rise of far left ideological groups — which oppose capitalism and view Jews as a worldwide problem — will eventually unite with the right and blaze an end to Jewish interest in America. The secular Jewish media channeling ideological hysteria in America won't reap good seeds; It will come and haunt Jews sooner or later, as evangelical Christianity fades nationwide thanks to the anti-conservative media rhetoric created to steepen division forcing secularism propaganda to spread uncontrolled.
Such stupid and arrogant move will end with new laws that will limit the influence of Jewish secular media in America; it would also end the unilateral relationship between America and Israel for good. If worse comes the worse, and such division ends in a new Civil War – where far leftist groups battle conservative and traditionalist Americans — Jews will be expelled from America and many will be killed when the dispute between the factions is over; someone, will be blamed for starting an ideological division that ended in war, and American Jews will be rightly accused.
The US needs to limit the power of Jewish secular groups in the media as soon as possible to prevent an unnecessary series of events. The dumbest mistake secular Jews could take would be to spit on the hand that feed them — That is evangelical Christians and conservatives, finally rethinking their loyalty to Jews and Israel, threatened by the narrative set against them in Hollywood and media. Big, big mistake!
A small list bellow of powerful networks backed up by secular Jewish American media which allow their reporters to launch a vicious attack against president elect Donald Trump.
David Levy president of Turner Broadcast System owns CNN – Jewish
Jeff Zucker president of CNN – Jewish
Brian L. Roberts, Ralph J. Roberts and David L. Cohen own Comcast, MSNBC and Telemundo – All Jewish
New York Times Chairman, Arthur Ochs Sulzberger – Jewish
Michael Kinsley creator of Slate Magazine – Jewish
Donald E. Graham is the Chairman of Graham Holding Company and the Washington Post – Jewish
Samuel Irving Newhouse JR. Owns Vogue, The New Yorker, Vanity Affair, GQ and Self – Jewish
Jared Grusd Chief Executive Office of the Huffington Post – Jewish
James Goldston, president of ABC News – Jewish
Jordan Hoffner, Salon Magazine –Jewish
Mortimer Zukerman, owner of New York Daily News and US News & World Report – Jewish
David Rhodes, president of CBS News – Jewish
Katrina Vanden Heuvel, part owner of The Nation – Jewish
Jimmy Fikelstein, owner of The Hill — Jewish