By Sebastian Sarbu.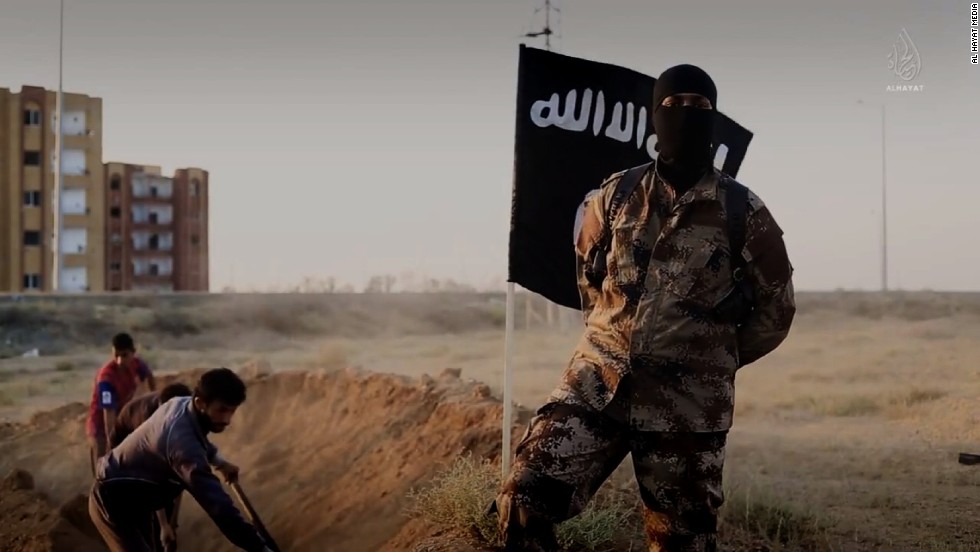 ISIS is an unrecognized Islamic enclave state, founded on the 26th of June 2014 by an Al-Qaida affiliated Sunni group and organized as an Arab Caliphate having the city of al-Raqqah (Syria) for capital. This new Islamic state's geographic extent comprises Syria, the Levant, and Iraq, as well as territories in Turkey and Lebanon. It has recently expanded into Libya, Afghanistan, and Pakistan.
Structure, leaders, resources, objectives:
The Islamic State, also known as ISIS, exceeds the size of typical terrorist organizations. It is organized as a network irregular army enrolling 100,000 armed agents, out of which 40,000 Western agents, as well as hundreds of thousands of supporters. Its resources amount to 2,000,000,000 USD, as well as access to nonfinancial resources. The member count is variable and fluctuating, as there is no rigorous instrument to estimate it given this paramilitary structure's irregular, network-type organization, which follows the model of lonely wolves.
ISIS is counting on the oil reserves of most Islamic countries.
The Syrian-Iraqi Islamic State (ISIS) has expanded its reach towards Europe. Its leader, Abu Bakr al-Baghdadi, has for major objective the division of the world on religious criteria. Abu Bakr's second-in-command, Fadel al-Hiyali, also known as Abu Muslim al-Turkmani, was an army officer and had appropriate knowledge of strategy and tactics.
ISIS was created following the beginning, in the Arab world and the entire area of North Africa, of a regional independence war and of emancipatory, anti-neocolonial revolution, which developed alongside the democracy wave initiated by the West itself. The Arab world is going through a series of revolutions for decolonization, a fact unknown by public opinion. Poverty and insecurity favor fundamentalist religious movements which are well-embedded in the Arab collective mind. Their purpose (and this is where Iran becomes interested) is to reactivate the pan-Arab movement. The desire to have a strong and united Arab world determined young Muslims, as well as other disfavored social categories, to join ISIS, as these people feel the West is attacking their fundamental values. This feeling is being exploited in an illegitimate and barbaric way by this terrorist entity financed  by the same underground economy which led to poverty and insecurity; it is of great interest to Western reactionaries, not to mention that Euroscepticism and political extremist movements favored indirectly the rise of ISIS, as well as other extremist terrorist organizations.
It is equally true that ISIS was financed by Saudi Arabia, who plays a regional strategic part in the affair. As was the case with other terrorist organizations which developed in the context of globalization, they have benefitted from training centers hosted in Western countries, such as the USA or France. A few examples of such organizations: Al-Qaida, Hezbollah (pro-Iran), the Islamic Jihad, the Mali Group in Algiers, the Shaman Organization, Boko Haram. Past operations (1994): "Euphrates", "Globalism". Mission: a conceptual plan for an Islamic takeover of the world, by organizing terrorist acts in the USA via the Western Movement.
Note: All main terrorist organizations have merged with ISIS at the beginning of 2015, when ISIS tripled the number of its recruited members and expanded its actions and organizational structure into Libya, Nigeria, and Yemen. The secret merger with Al-Qaida was accomplished in January 2015 at the time of the events in Paris. ISIS' targets are strategic and symbolic. USA and Russia are their main targets. They are trying to destabilize Turkey and China as the geostrategic aim is to threaten Europe's security.
The West has discretely decided to disarm the Kurds living in the border areas.
Other data
The Islamic terrorists are not financed or organized in a planned way by the West. Both military leaders, as well as most political leaders in the Arab world have studied in Europe and the USA. Most Islamic terrorists are given an anti-Western education while benefitting from the West's science and economy. They infiltrate the structures of other European states, including Romania, in a discrete way.
Affiliations and infiltrations involving organizations and facilities:
– the air force and airborne forces of Arlyse Special Agency, as combatants;
– access to the International Secret Computer.

The USA are interested in using the terrorist hotbed generated by the Islamic State in order to organize surgical military interventions or even larger scale interventions against Syria and especially against Iran. It is a strategic design involving political and economic interests in the pervasive competition with other power centers, especially the EU.
In the context of disputations with Russia, the US does not neglect the opportunity for cooperation with China on the issue of anti-terrorism. This is part of the USA's strategic game: openness towards cooperation with China, especially if it is China that does the strategic move of considering cooperation in the fight against terrorism, and thus compensating from a geostrategic perspective the traditional imbalances between East and West.
We ask the Trump administration to make the following its highest priorities:
–  Toppling the ISIS caliphate in the Middle East
–  Continuing to deliver setbacks to ISIS in Syria and Iraq
–  Focusing on the rising Islamist terror risk in Asia
–  Funding, equipping and training more counter-terrorist squads like Delta 88 in Indonesia
–  Using intelligence operations to work against Islamist politics around the world
–  Negotiating with the Philippines to ensure that U.S. counterterrorism forces are not evicted
–  Deepening pressure on Saudi Arabia to stop funding Islamist schools and institutions abroad
–   Military sanction against Iran if is proved  his involve in financing of terrorism.
–  Capturing/killing Bahrun NAIM, the mastermind of the 2016 Jakara attacks, currently in Syria
Key allies in this renewed focus on defeating ISIS must be:
–  Germany
–  UK
–  Turkey
–  Israel
–  Australia
–  Indonesia
–  Malaysia
–  Singapore
With regard to Bahrun NAIM (aka Muhammad Bahrun Naim Anggih TAMTOMO aka NA'IM aka ABU RAYYAN aka ABU AISHAH), TR notes the following:
–  Three militants killed in Indonesia in Dec 2016 were tied to NAIM, who also coordinated the attack in Jan 2016 in which four people were killed in a district of Jakarta popular with foreigners.
–  He is associated with MUJAHIDIN INDONESIA TIMUR (MIT) leader Abu WARDAH, who has pledged allegiance to ISIS.
–  His activities include funding foreign nationals and pouring funds into Indonesia to assemble bombs.
–  In 2010, Indonesia sentenced him to two and half years for possession of firearms and explosives.
– From Oct 2015 to Nov 2015, a Facebook account named Muhammad Bahrunnaim Anggih TAMTOMO  distributed tutorials on making bombs and firearms, with links to a radical website that listed more comprehensive bomb-making instructions.
–  Since 2014, he has been in Syria as a member of ISIS and has been writing a blog at bahrunnaim.co
With regard to Delta 88 (aka Special Detachment 88 aka Detasemen Khusus 88 aka Densus 88 aka Detachment 88), TR notes the considerable success it has had against the jihadi terrorist cells linked to the Central Java-based Islamist movement JEMAAH ISLAMIYAH.
Finally, it is a priority to implement the management of crisis situations, the strategy of integrated operational response: against terrorism, in crisis situations, against organized crime, and for social defense, to set up a National Antiterrorist Prosecution, as well as deport suspects of terrorism.